Grab your chance to visit the Praxis hybrid demonstrator yacht (EVOLUTION) at the Electric & Hybrid Marine Expo
Published on 13 June 2022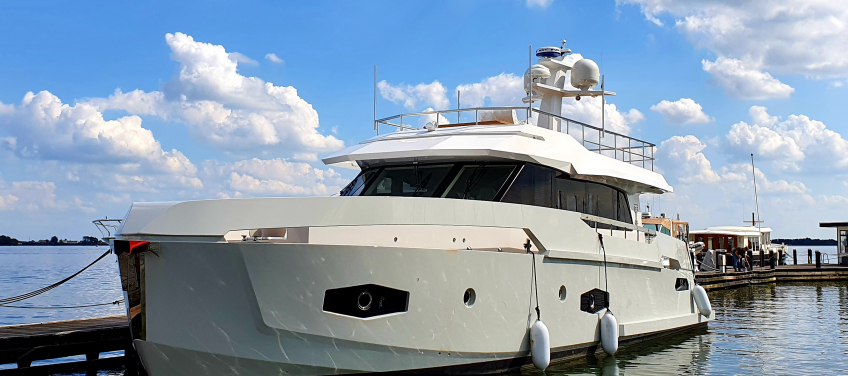 Praxis offers you a unique opportunity to come visit hybrid yacht EVOLUTION, which is equipped with our complete product range of electric and hybrid propulsion systems. SIGN UP BELOW!
We're excited to be part of the Electric & Hybrid Marine Expo Europe 2022, on 21~23 June. With just one week to go, preparations are in full swing! This show is the world-leading expo for electric and hybrid technology for the marine industry. Being a frontrunner in this technology, Praxis has been present at the show since it's very beginning. This time, you have a unique opportunity to visit our demonstrator yacht in a marina close to the show and see our full system on board!

What better way to demonstrate the potential of a new propulsion system than to build a ship yourself? When the Praxis electric & hybrid propulsion system was developed in 2017, immediately a plan was made to commission a vessel under our own management, fully equipped with our own electric propulsion system and bridge/engine room automation systems. This shows how effective the system can be integrated due to its decentral layout and it gave us the opportunity to test the system in full swing in its intended environment: a vessel. All equipment that builds up the Praxis electric & hybrid propulsion system is specifically developed for application on board of a ship. For example: the DNV and LRS approved batteries have IP65 housings, inverters are standard equipped with local operator panels and emergency stop pushbuttons and cable glands are fitted for large sized ship's cables.
Curious? Sign up for a visit by sending an email to events@praxis-automation.nl. See you at the show, and hopefully on board!