Arksen 85 "Project Ocean" with Praxis Hybrid Propulsion Package in production
Published on 22 October 2020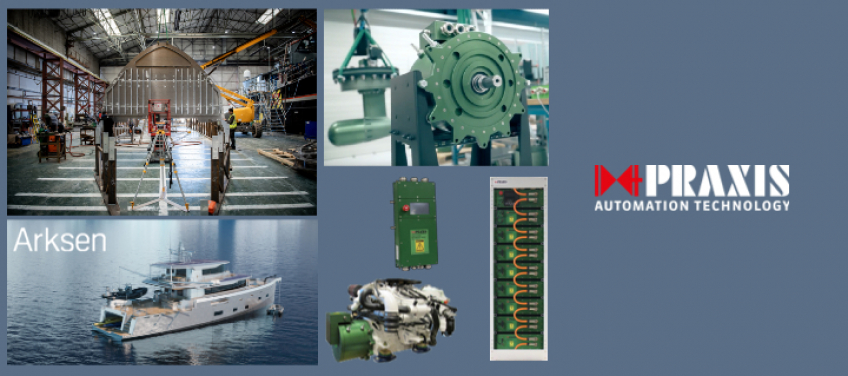 Earlier this month Arksen's first Explorer Vessel, the Arksen 85 "Project Ocean", has gone into production in the UK at Isle of Wight based Wight Shipyard Company. The 85 model is the 'flagship' of the Arksen Explorer Series. Project Ocean has a full hybrid propulsion package and energy management system supplied by Praxis Automation Technology.
Arksen and the Praxis Automation project team are already working together closely on the systems engineering since prior to Arksen unveiling their innovative vision for a new wave of sustainable marine adventure less than 2 years ago. This exciting process, along with discussions around future R&D projects, has really highlighted the synergies between the two companies, when it comes to innovation and the commitment to providing 24/7 global support to a client base of ambitious adventurers. The partnership, already working in a creative and dynamic fashion, has enabled both companies to push their designs, opening new ideas and solutions to the industry.
Benjamin Van Dam, Commercial Director at Praxis Automation Technology comments on the milestone for Arksen:
"We're proud to be partners of Arksen in this exciting project and we congratulate their team on achieving this milestone. Together with Arksen and Wight Shipyard we are working towards making ships cleaner, smarter, more efficient and more sustainable. We're looking forward to the next milestones of delivering and setting to work the Hybrid Propulsion Systems. This will bring the ship to life, and make her ready to start her adventures".
For more information:
https://www.arksen.com/explorer-vessel-project-ocean-in-build/