Arksen & Praxis Pioneer Hybrid Propulsion System For 70-100ft Explorer Yachts
Published on 22 January 2020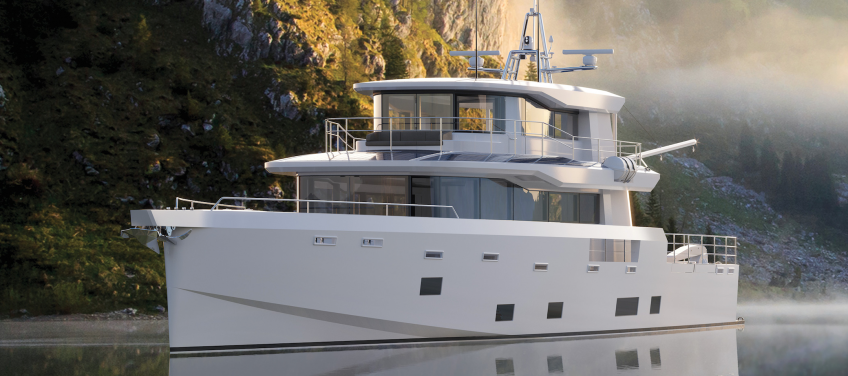 Arksen has partnered with Praxis Automation Technology to develop the hybrid propulsion systems and vessel management systems for their 20-30m range of explorer yachts. The Netherlands-based technology company develops, manufactures and delivers innovative ship automation, navigation and electric propulsion equipment for all types of vessels and shares many common goals with Arksen, notably the joint desire to design and build a more sustainable and environmental conscious ocean going vessel.
Jim Mair, Arksen's Technical Director, has been integral in the development of this new partnership:
"When deciding upon the powering and propulsion for the Arksen range of vessels, it was vitally important that we found not only the most suitable equipment package, but the right partner to work with on the development of this most crucial of vessel systems. Praxis Automation offered not only an excellent package for the key powering, energy storage, distribution and propulsion systems we were seeking, but also a well-proven vessel control and monitoring system, that along with Arksen Control, will underpin a new wave of marine automation. The impressive level of integration and redundancy possible with the Praxis Automation system, combined with their team's approach to reliability and safety, fits perfectly with the core technical values of Arksen."
Arksen and Praxis Automation project team are already working closely on the systems engineering of the current Arksen 85, with hull one entering production early 2020. This exciting process, along with discussions around future R&D projects, has really highlighted the synergies between the two companies, when it comes to innovation and the commitment to providing 24/7 global support to a client base of ambitious adventurers. The partnership, already working in a creative and dynamic fashion, has enabled both companies to push their designs, opening new ideas and solutions to the industry.
The first of the Arksen Series, the Arksen 85, will boast a full hybrid propulsion package and energy management system supplied by Praxis Automation, further cementing Arksen's commitment to being industry leaders in innovation and technology. With an expected range in excess of 7,000nm on a single tank of fuel, with solar increasing silent running times the Arksen 85 will take on much larger vessels in terms of capability, with a significantly lesser usage of fossil fuels and energy consumption. Facilitating a new breed of explorer to take to the water, Arksen is determined to make exploration more accessible and sustainable.
Benjamin Van Dam, Sales Director at Praxis Automation Technology comments on the partnership:
"By combining the latest technologies in electrical energy storage systems powered hybrid propulsion, with state-of-the-art automation and navigation systems, we are working towards making Arksen vessels clean, smart, efficient and of course comfortable. In line with the Arksen philosophy we feel we are a part of bringing the vessels to the forefront of a revolution within the marine industry and create a new approach to long distance offshore sailing in a sustainable way. We salute Jasper Smith and his team for materialising this project and selecting Praxis Automation as their technology partner for this challenging and visionary explorer yacht venture."