Flexible yet standardized: Praxis Automation Technology to supply Hybrid Propulsion System for Norwegian aquaculture workboat
Published on 30 October 2020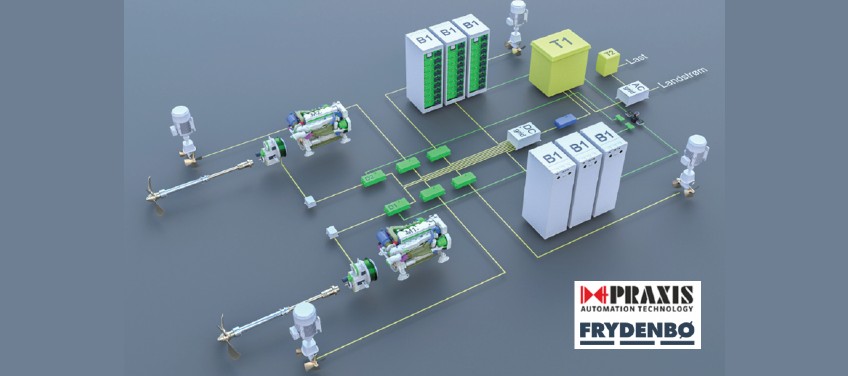 Praxis Automation Technology is proud to announce that it has been contracted by Frydenbø Industri AS, to manufacture and supply the Hybrid Electric Propulsion System for a twin hull aquaculture workboat. The new PROCAT 1475 type will be built by PROMEK Shipyard in Smøla, Norway for EWOS. EWOS, a subsidiary of Cargill, is a long-time leader in the international aquaculture industry, with a well-earned reputation as a feed supplier.
The newly designed workboat has a unique hybrid electric propulsion layout with 2 Main Diesel Engines and CPP propeller, each shaft equipped with a 100kW Electric Propulsion Motor/Generator mounted between the diesel engines and gearboxes. The Propulsion Motor is powered by two DNV-GL approved 60kWh Energy Storage Systems. The batteries are charged using the Propulsion Motor as Shaft Generator, or from the ship's shore power connection. The Propulsion Motors, Batteries, Inverters and Control Systems are developed and manufactured in The Netherlands by Praxis Automation Technology.
Per Jarle Røyrvik, who is the CEO at Frydenbø Industri: "The Praxis Electric Propulsion System has proven to be both a flexible yet standardized solution which made it perfectly suitable for this project. Praxis is able to offer the system with a minimum of integration between different products from different sources. This minimises projects risks and secures long-term service support which is of vital importance to our customers. The electric motor design was adapted for the Kumera gearbox in such a way that we can now offer retrofit solutions where existing ships can easily be converted to Hybrid, by replacing the gearbox and adding batteries".