"MPA Guardian" – Singapore's first hybrid-electric patrol boat delivered to the Maritime and Port Authority of Singapore Powered by Praxis Automation
Published on 27 September 2022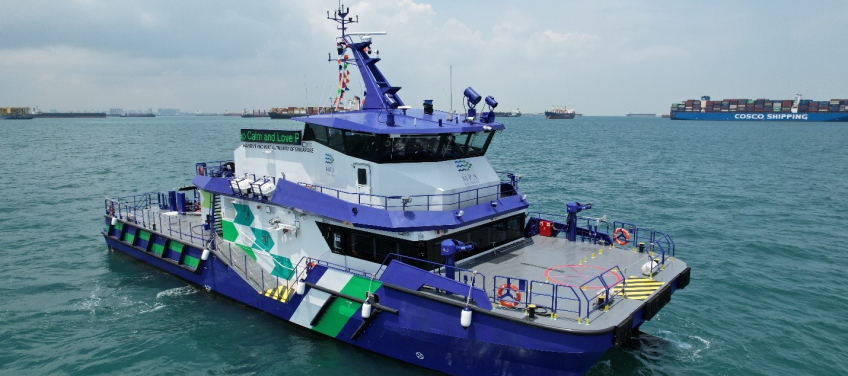 The Maritime and Port Authority of Singapore (MPA) has taken delivery and operationalized Singapore's first hybrid-electric patrol boat with Bureau Veritas' "Electric Hybrid" notation
Christened "MPA Guardian", the patrol and emergency response craft was built by Singapore-based Penguin Shipyard International (Penguin) and designed by Southampton-based BMT, with power and control systems supplied by Praxis as part of the latter's new electric propulsion product line.
MPA Guardian is a 34.5m multi-role command boat, with bespoke surveillance, search-and-rescue and firefighting capabilities. She is designed for patrolling duties within the port of Singapore and for quick response to marine incidents outside the port. The vessel and her unique features were jointly developed by Penguin, BMT and Praxis, in collaboration with Singapore's Defence Science and Technology Agency and MPA.
As Penguin's technology partner, Praxis supplied the automation systems on-board, including the dynamic positioning system, vessel management system, propulsion control system, energy management system, power management system and fire alarm system.
Each shaft is connected to a controllable pitch propellor and is equipped with a Praxis permanent magnet electric propulsion motor/generator mounted between a diesel engine and a gearbox. The system is powered by six sets of 80 kWh battery racks with Praxis' DNV-approved liquid-cooled Lithium-ion LFP batteries ("GreenBattery"). The batteries are charged using the propulsion motor as a shaft generator.
In full-electric, zero-emission mode, MPA Guardian can cruise stealthily at 6 knots for up to three hours. The vessel can also operate in a diesel-electric mode to achieve continuous medium speed operation at between 6 knots and 10 knots. In this mode, power is drawn from one of the two main engines to propel both shafts while recharging the batteries. This mode offers a significant advantage by way of emissions reduction and reduced wear-and-tear on the engines. In her conventional diesel mode, MPA Guardian can run at a top speed of close to 27 knots.
With accommodation for up to 24 survivors and a state-of-the-art wheelhouse designed specifically to suit MPA's operational requirements, the vessel will be deployed in a command-and-control role during multi-vessel operations, and as first responder in a wide variety of missions.
Mr Jerome Lin, Sales Director of Praxis Automation Far East Pte Ltd, said, "When it comes to electrifying vessels, it's more than just putting in a battery rack, drive unit and electric motor. The key to a successful electrification project is the control and integration of all equipment and systems."
"We are thankful to be involved in this innovative project with our complete in-house developed and manufactured electric propulsion solution," Mr Lin said. "Working closely together with our client Penguin and other project partners, we succeeded in electrifying this innovative and challenging vessel and we are proud of the end result."
Penguin's Managing Director James Tham commented, "With MPA Guardian, Praxis have proven themselves as a project partner of choice for bespoke and complex high-speed hybrid-electric solutions. We value Praxis as a strong technological partner who is committed to doing hard things right."