Praxis Automation Awarded Major Contract By Rawabi Vallianz Offshore Services To Equip Entire Fleet With Dynamic Positioning Systems
Published on 21 September 2023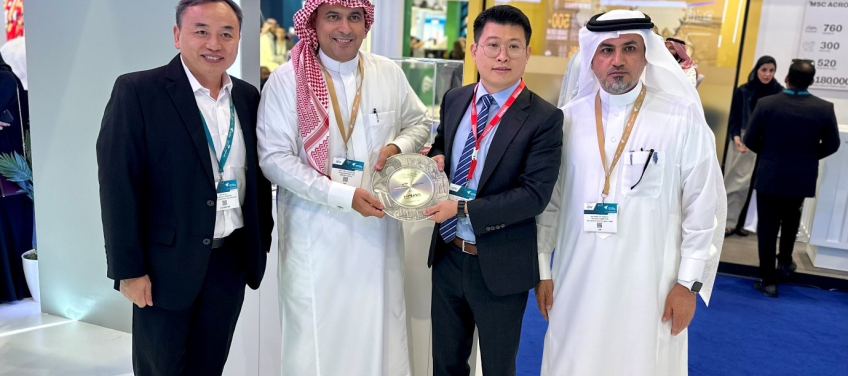 Praxis Automation, a global leader in ship Automation, electrical propulsion and dynamic positioning systems, announced that it has been awarded a long-term collaborative contract by Rawabi Vallianz Offshore Service (RVOS), a Saudi world class support service provider to the offshore industry. RVOS is one of the offshore service companies of Rawabi Energy company.
Under this RVOS fleet-wide contract, new build and existing offshore support vessels will be equipped with Praxis dynamic positioning systems, as well as customised equipment and software for digitization of the fleet in phases agreed with RVOS. This collaboration marks a pivot point in advancing maritime technology and safety in the gulf region.
In total Praxis Automation will supply 59 shipsets of Praxis DP-2 systems under this contract, facilitating a remarkable transformation of RVOS's fleet capabilities. This comprehensive project encompasses the conversion of 39 vessels with existing DP systems to Praxis DP-2 System, including the supply to 20 newbuild vessels ordered by RVOS from other regions in the world.
Ahmed Alqadeeb, Managing Director of Rawabi Energy, emphasized the importance of partnering with a technology leader like Praxis Automation, stating, "Our fleet's operational success hinges on a strong technology partnership. Praxis Automation has proven their performance during an earlier successful DP-1 to DP-2 retrofit project on 14 RVOS ships, justifying their status as a solid and reliable technology partner. With this new contract, we will boost our fleet status, having the most modern offshore support vessel (OSV) fleet in the kingdom, renowned for its technological prowess and digitalized operations catering to the needs of Saudi Aramco".
Jerome Lin, Sales Director at Praxis Automation Far East, highlighted the pivotal role played by Praxis during the earlier 14 ships DP-2 refit program, in the success of this new contract. "Together with our local partner Integrated Maritime Service in the Kingdom of Saudi Arabia. Praxis Automation not only supplied the advanced DP-2 systems but also extended its technological partnership to encompass the digitalization initiatives of RVOS's fleet. Our commitment to guarantee through-life-support and non-obsolete parts throughout the vessel's operational lifespan is paramount in ensuring uninterrupted vessel operations within the kingdom." Faisal Al-Zahrani, The Managing Director of IMS underscores the significance of fostering a robust technological partnership with Praxis Automation in Saudi Arabia as part of the kingdom's commitment to advancing digitalization and electrification efforts.
This collaboration allows Praxis Automation's to display its commitment and support to RVOS in providing cutting-edge maritime technology solutions that enhance safety, efficiency, and digitalization in the maritime industry. The collaborative efforts between Praxis Automation and RVOS is the foundation towards setting new standards of excellence in the offshore sector.
ABOUT RAWABI VALLIANZ OFFSHORE SERVICES LIMITED
Rawabi Vallianz Offshore Services Limited is a prominent offshore support services provider, formed through a strategic partnership between Rawabi Energy and Vallianz Holdings Limited. With a strong presence in the Middle East and a global maritime footprint, the company delivers top-notch offshore solutions. Their modern fleet of vessels, commitment to safety, and environmental responsibility make them a trusted partner in the oil and gas industry. Rawabi Vallianz is dedicated to excellence, offering services ranging from offshore support vessels to subsea operations, all while prioritizing sustainability and adhering to rigorous industry standards. They continue to be a beacon of reliability and innovation in the sector.
ABOUT PRAXIS AUTOMATION TECHNOLOGY
Praxis Automation Technology has been in the ship-automation business for well over half a century and has built up a reputation as a solid marine system supplier. With an installed base of more than 6000 vessels, we can truly state that we are a top 3 world class supplier for bridge and engine room automation as well as electrical propulsion systems. Key strength of our Company is being able to offer a full range of automation and control systems for ships. With an in-house electronics hardware and software design department and PCB production plant, we offer high-quality innovative systems that use the very latest IT technologies and power electronics. Our products are designed to reduce your costs by minimising installation and maintenance work as well as providing 20 years through life support, often equating to the life of a vessel.
ABOUT INTEGRATED MARINE SOLUTIONS COMPANY (IMS)
IMS has partnered with the most innovative company (Praxis) that cover the entire MENA region. Praxis, provide smart and accurate world-leading systems for complete solutions for ship automation, navigation, electrical propulsion and dynamic positioning. IMS provides 24/7 technical support and spare parts for the entire MENA region. The transformation of conventional vessel management into a completely digitalised form is an essential part of today's era. IMS offers a number of digital solutions for smart engines regarding data analytics and artificial intelligence. These optimise the asset, enable accessibility to machinery insights for enhanced predictive maintenance and provide an overview of asset activities so one can form a desirable decision support system.