Praxis Automation Technology and Frydenbø Industri sign repeat order contract for five sets In-line Hybrid Propulsion Systems
Published on 27 September 2022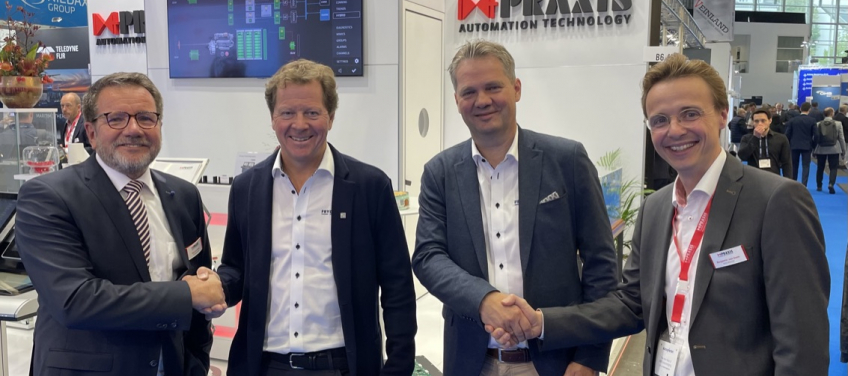 Praxis Automation Technology and Frydenbø Industri sign a repeat order contract for the delivery of five sets In-line Hybrid Propulsion Systems
Praxis Automation Technology is proud to announce that it has been contracted by Frydenbø Industri AS for a repeat order. The contract specifies to supply 3+2 full sets of Hybrid Electric Propulsion Systems for Aqua Culture workboats to be operated in Norway. Together, Frydenbø and Praxis have defined a standard, yet scalable system for electrification of existing vessel as well as newbuilding projects. The concept has already proven its outstanding performance on two aquaculture workboats which are currently in operation in Norway.
The unique serial hybrid electric propulsion layout with 2 Main Diesel Engines and CPP propeller, each shaft equipped with a 50kW Electric Propulsion Motor/Generator mounted between the diesel engines and gearboxes. The Propulsion Motor is powered by two DNV-GL approved 60kWh Battery Energy Storage Systems. The batteries are charged using the Propulsion Motor as Shaft Generator, or from the ship's shore power connection. The Propulsion Motors, Batteries, Inverters and Control Systems are developed and manufactured in The Netherlands by Praxis Automation Technology.
Per Jarle Røyrvik, who is the CEO at Frydenbø Industri: "The In-line hybrid propulsion system is a fine example of what can be achieved by good partnership. Frydenbø Industri is well known as a propulsion system integrator for mechanical propulsion systems. Thanks to the close cooperation with Praxis we have been able develop an innovative new in-line hybrid propulsion system. Our customers are more than satisfied with the system performance and the reduction of fuel consumption. Due to the good results, we have decided to pre-order the next five systems. Our goal is to be able to help our customers on short notice by having equipment on stock".