See you at SMM 2022!
Published on 26 August 2022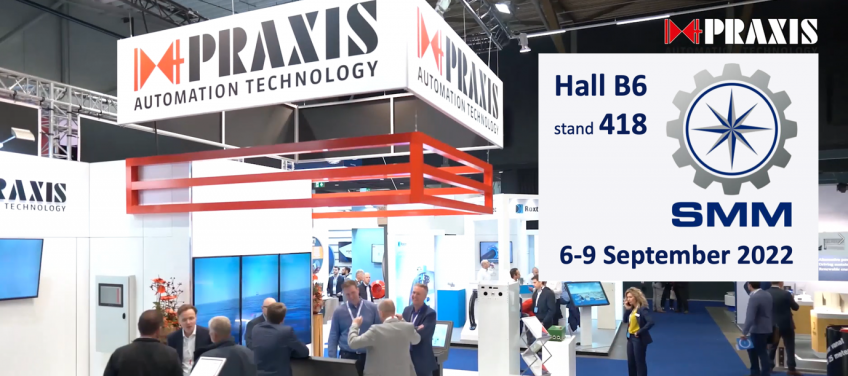 Praxis Automation Technology hereby kindly invites you to pay a visit to our booth #418 in hall B6 during the upcoming SMM exhibition.
We are thrilled to be back in Hamburg after such a long time and we look forward to meeting old friends and making new connections.
As always, we will showcase our latest products which include the electric propulsion product range consisting of the GreenBattery Energy Storage System, GreenInverter High Power Inverter, GreenMotor Permanent Magnet motors/generators and of course the Energy Management System. As we are world-leading supplier of automation and dynamic positioning systems we will demonstrate the latest developments in these fields as well.
Looking back at 2021, Praxis has seen a steady growth of the order book. We have received record numbers of orders for our latest product range of electric propulsion systems, as well as our more traditional systems such as engine room automation, power management, dynamic positioning and propulsion control systems.
Praxis has a clear ambition to contribute to reduce emissions of the shipping industry and we are proud of what has already been achieved. Vessels equipped with our electric propulsion systems are now reducing emissions around the world in The Netherlands, Singapore, Korea, Norway, Turkey and the UK. The systems, introduced in 2017, have already established a global footprint.
Unique to the world, all our products are developed and manufactured in-house. This gives Praxis an unsurpassed level of expertise in the products we are supplying and their application. This makes Praxis more of a partner in the ship building process than a mere supplier.
Register as visitor of SMM now via: https://www.smm-hamburg.com/en/infos/visitors/tickets-and-invitations
We hope to see you there!