Technology Demonstrator "Mega-Guard Electric" rolled out at Naval Yachts
Published on 2 April 2019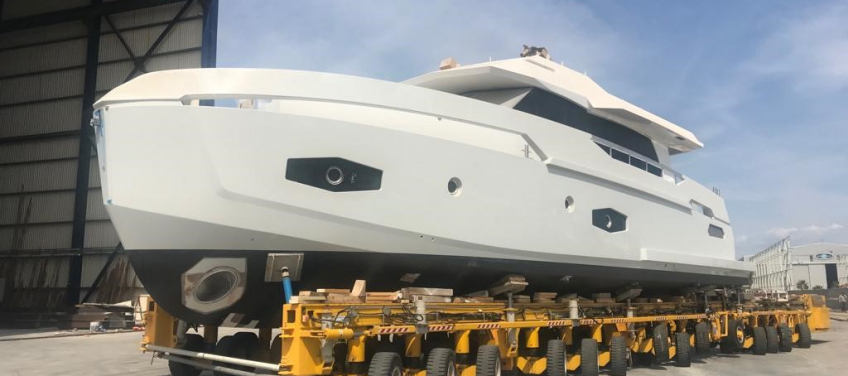 Praxis Automation Technology demonstrator "Mega-Guard Electric", which is under construction at Naval Yachts Antalya, rolled out the factory on March 21st, 2019. The 18-meter explorer yacht with a range of 4000 NM is intended as technology demonstrator for Praxis Automation's new Hybrid GreenPropulsion concept featuring the following Praxis in-house designed and delivered Systems:
· Electric Steerable POD propulsion 2x 200kW
· Energy Storage System 3x 80kWh with master BMS
· DC Bus power distribution with 2x 200kW gensets
· AFE/VFD High Power Inverters
· Propulsion & steering control system
· Energy management system
· Vessel management system
· Integrated navigation system
· Dynamic positioning system
Sjors van Ruiten, Chairman at Praxis Automation Technology: "We are really happy with the vessel building progress at Naval Yachts and hope to take delivery in the summer of 2019. Soon after delivery of the vessel, we will demonstrate the explorer yacht to the many potential customers for Praxis GreenPropulsion who cannot wait to see the ship's performance".
Dincer Dinc, Managing Director and Naval Architect at Naval Yachts: "The decision by Praxis Automation to design and build their technology demonstrator at our yard was very important. It is an innovative "Green" design with hybrid power generation and state of the art energy storage. The system is therefore standard fit for our GreeNaval yacht brand. The final outfitting of the yacht and preparation for sea trials will take place out of our new construction hall located at Antalya Free zone."