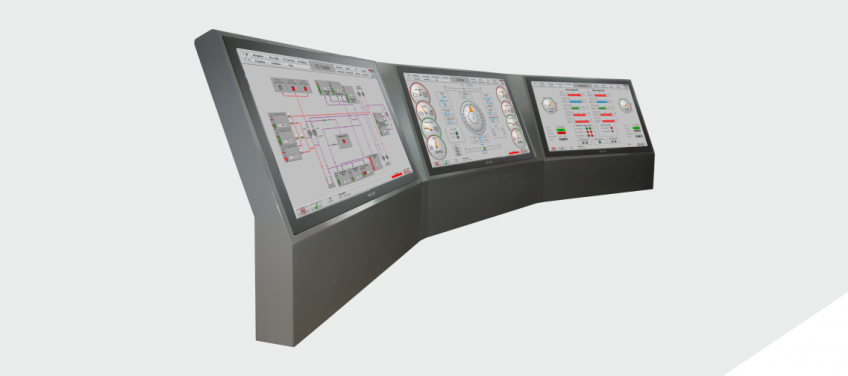 Vessel Management System
The Mega-Guard Vessel Management System (VMS) is an advanced system for perfect ship automation for medium to large size ships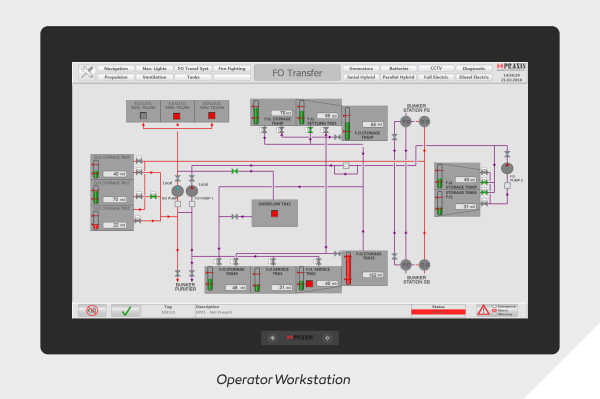 The Mega-Guard Vessel Management System (VMS) is an advanced system for perfect ship automation for medium to large size ships. Mega-Guard VMS is a modular system which can be tailor made based upon ship's automation requirements. Often realized functions with Mega-Guard VMS include the following:
Alarm and monitoring system
Extension alarm system
Valve, pump and fan control
Cargo control and monitoring
Tank gauging
Fuel oil transfer
Automatic ballasting
Anti heeling
Firefighting
Conning
Etc.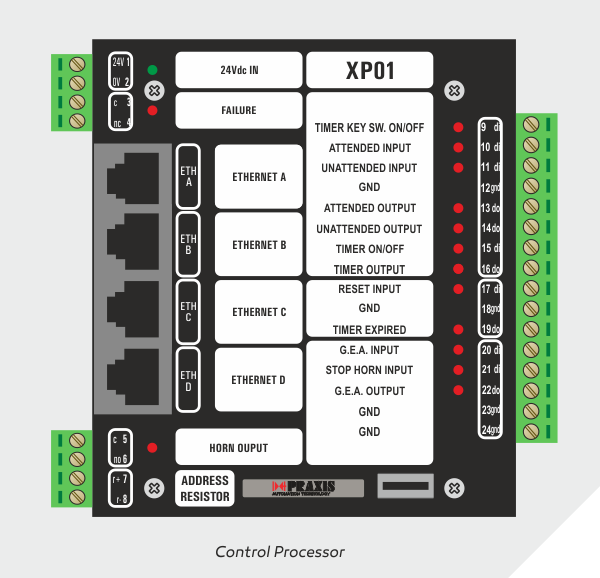 Mega-Guard VMS can be extended with the following independent Mega-Guard automation and navigation products:
Power Management System
Fire Alarm System
CCTV Video Distribution
Ship Performance Monitor
Fleet Management System
Integrated Navigation System
Heading Control System
Propulsion Control System
Dynamic Positioning System
BNWAS Watch Alarm System
Navigation Light Control
Wiper Control System
In addition, Mega-Guard VMS can also be integrated with Mega-Guard electric propulsion products:
Energy Management System
Electric Propulsion Motor
Electric Steerable POD
High Power Inverter
DC Bus Generator
Electric Energy Storage
Electric Fin Stabilizer
The Mega-Guard Vessel Management System is the most reliable and field proven automation system as can be found on the market and is built-up with the following components and features:
Operator Workstations
Workstations are equipped with touchscreen and an integrated marine personal computer under Windows 10 embedded operating system. Solid state disk instead of hard disk is applied and multi-server structure ensures safety and reliability. The ruggedized Operator Workstations are available in touchscreen sizes ranging from 10" to 86". The high definition widescreen Workstations are available with HD (1920x1080) and UHD (3840x2160) resolution. The Operator Workstation can be extended with a Trackpad and Trackball Operator Panel and a hard copy printer.
Control Processors
Control and monitoring logic (PLC) is executed by powerful Control Processors. Sensor inputs and actuator outputs are connected to I/O Modules. A Control Processor has four Ethernet ports and up to eight I/O Modules. A Control Processor is also able to communicate with external systems through multiple protocols over Ethernet, RS485/422 and Canbus communication links. Control Processors and I/O Modules are mounted on DIN rails inside cabinets, switchboards and consoles.
Operator Panels
Operator Panels combine local operation and control logic in one device. An Operator Panel is built-up with a 5.7" or 8" touchscreen and a built-in Control Processor which is able to communicate to up to eight I/O Modules. Example applications include Extension Alarm System, Power Management System, Propulsion Control System and Fire Alarm System. The stylish Operator Panel is flush mounted.
Redundant Ethernet
Operator Workstations, Control Processors and Operator Panels are interconnected by redundant Ethernet link. Cabling with Star topology or Ring topology or a combination of Star and Ring topology is supported.
Configuration standard
Programming in accordance with international PLC programming standard IEC61131-3 (ST) and 3D graphic design in accordance with latest standards.
Type approval
Type approved by all major class classification societies such as Lloyds Register of Shipping, DNV-GL, American Bureau of Shipping, Bureau Vertitas, RINA, Russian Maritime Register of Shipping, CCS, NKK, PRS, KR etc.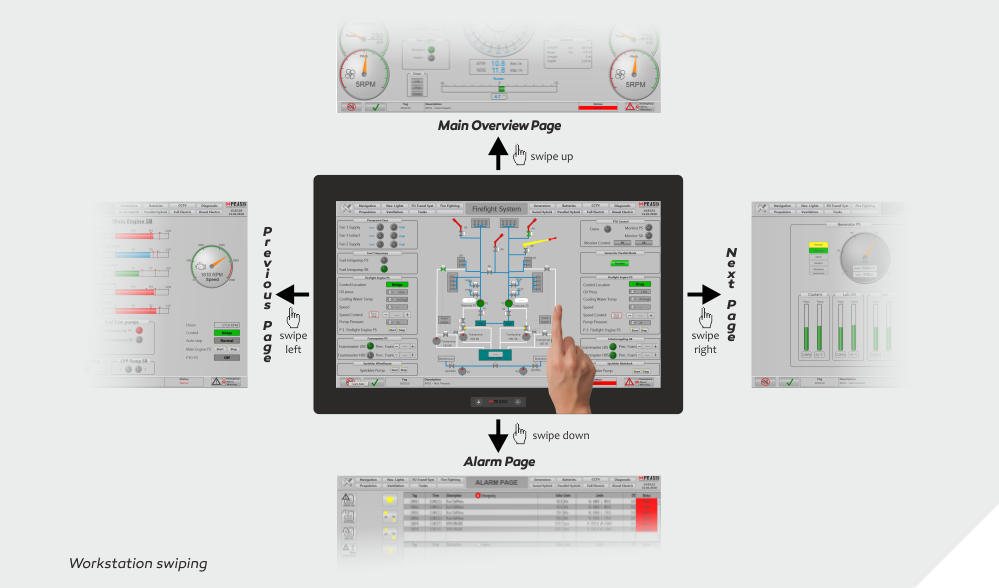 Operator Workstations and Operator Panels are equipped with the latest 3D graphic software package for an intuitive
and dynamic operation. The Workstation touchscreen allows for instance swiping in between pages and swiping to
alarm list. The zooming function provides more detailed information regarding the zoomed-in area. Up to 4 layers of
additional data can be presented depending on the zooming level. Pop-up menus give more detailed information
regarding the selected device as well. The pop-up can be made in a realistic way (photo) so that it resembles the actual
to be controlled device.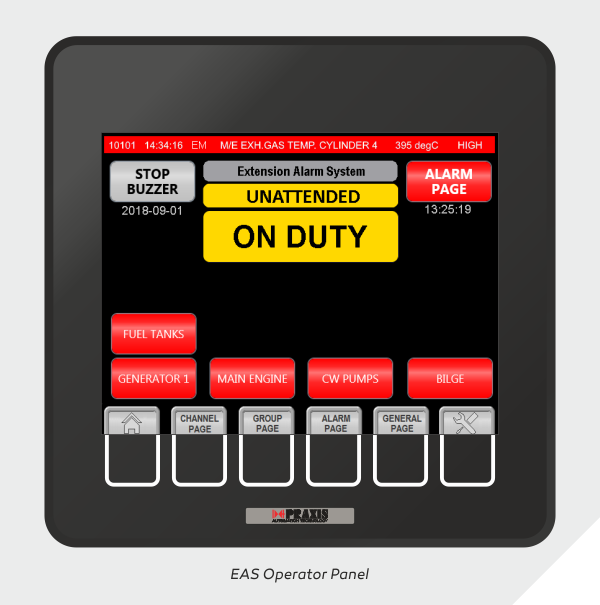 The Extension Alarm System (EAS) is a highly reliable engineer calling system, which extends the Mega-Guard VMS for unmanned machinery space operation. On duty selection and engineer calling functions are executed on a dedicated mimic on the Workstation. The dedicated mimic display on the Workstation contains the following fields:
On duty selection
Attended / unattended (manned/unmanned) engine room
Engineer calling
Patrol timer / engineer safety system (dead man timer)
EAS Operator Panels are installed in bridge and accommodation areas. They provide detailed alarm and on duty information on the 5.7" touchscreen. In addition the operator is able to select grouped data such as fuel tanks, main engine, generators etc for viewing. The touchscreen has an automatic sleep function and awakes again when an alarm is presented or when the touchscreen is touched.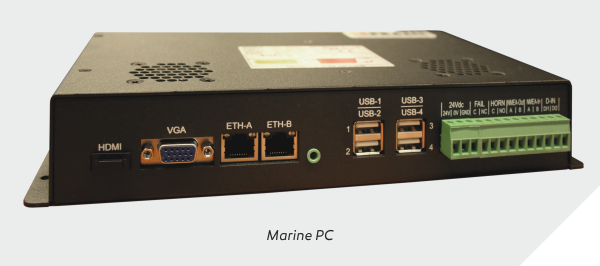 The Workstation contains a built-in Marine PC. The Marine PC is also available as a separate product and this is used when a 3rd party monitor is applied. The Marine PC is very compact and can be bulkhead mounted. The Marine PC is available in two versions:
Standard version with Intel quad core Celeron CPU at 2Ghz
High performance version with Intel dual core I5 Pentium CPU at 2.4GHz
Both versions require extremely low power which guarantees a long life and a high mean time between failure. Solid state disks are available in ranges from 32GB (standard) to 256GB. The Marine PC is powered by 24VDC and contains relays outputs for failure indication and connection of an external horn.
The VMS Vessel Management System is applied in all type of ships. Three market segments are distinguished:
Commercial ships
Mega yachts
Navy ships

VMS Workstations and Operator Panels for mega yachts are delivered with highly esthetic glass fronts and for commercial ships a metal front with pushbuttons is applied. Navy ships require a more robust VMS with higher shock and vibration resistance. In addition, navy ships require added functionality such as battle damage control.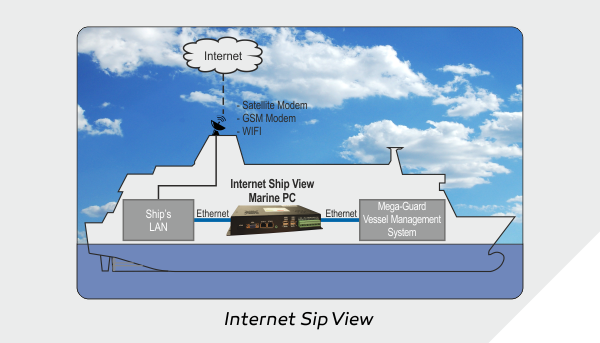 The Internet Ship View (ISV) system allows the ship owner (shore based) to view the VMS Vessel Management System (ship based) through the internet. Praxis service department is also able to log-in in case of requests for commissioning support or trouble shooting. Secure communication and double log-in procedures are applied for protection against unauthorized users.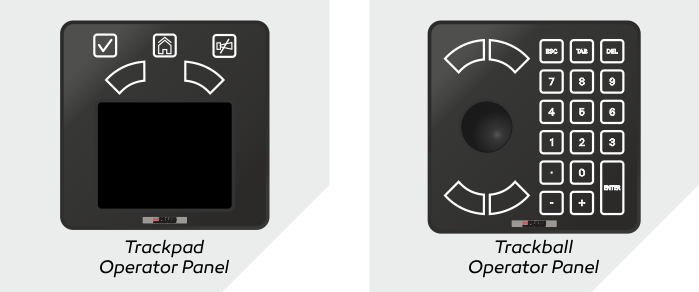 Workstations can be operated with touchscreen. In addition to this two types of input devices are available: a Trackpad and Trackball Operator Panel. The Trackpad Panel offers a large trackpad for accurate and easy selection of the required function on the Workstation or monitor. The Trackball Panel is equipped with a trackball for function selection and a keypad is also integrated in this panel.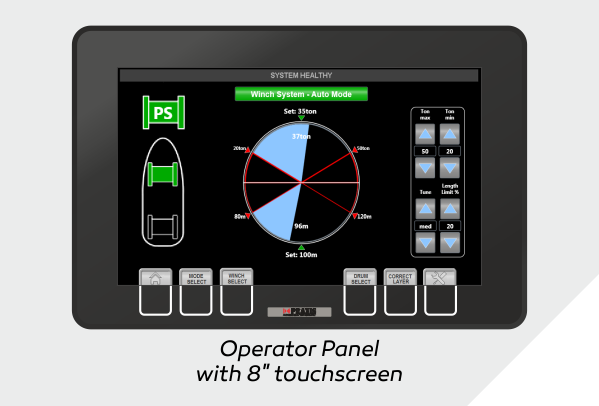 Mega-Guard is available in 2 configurations: standard type (ST) and high performance (HP) type for demanding applications. The HP type is equipped with higher performance CPU's in Workstations, Control Processors and Operator Panels. In addition redundant Ethernet network speed is increased to 1Gb in case of HP type.
Mimics are designed in close cooperation with ship owner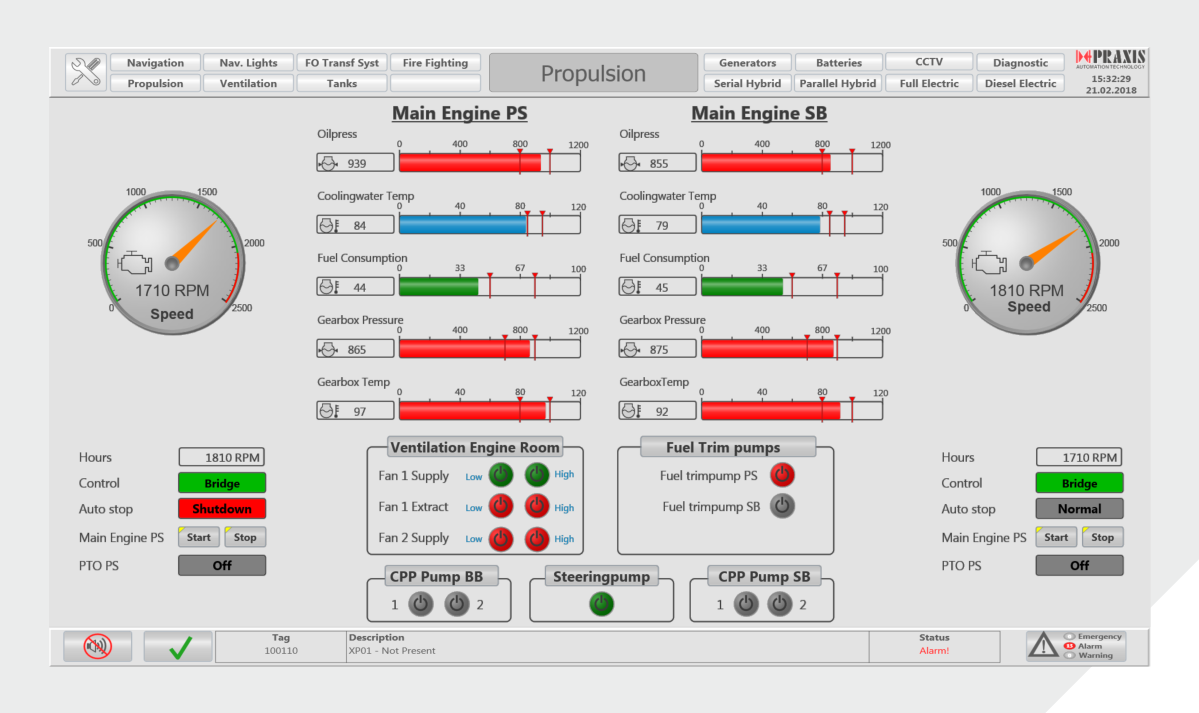 Colors, fonts and symbols are freely selectable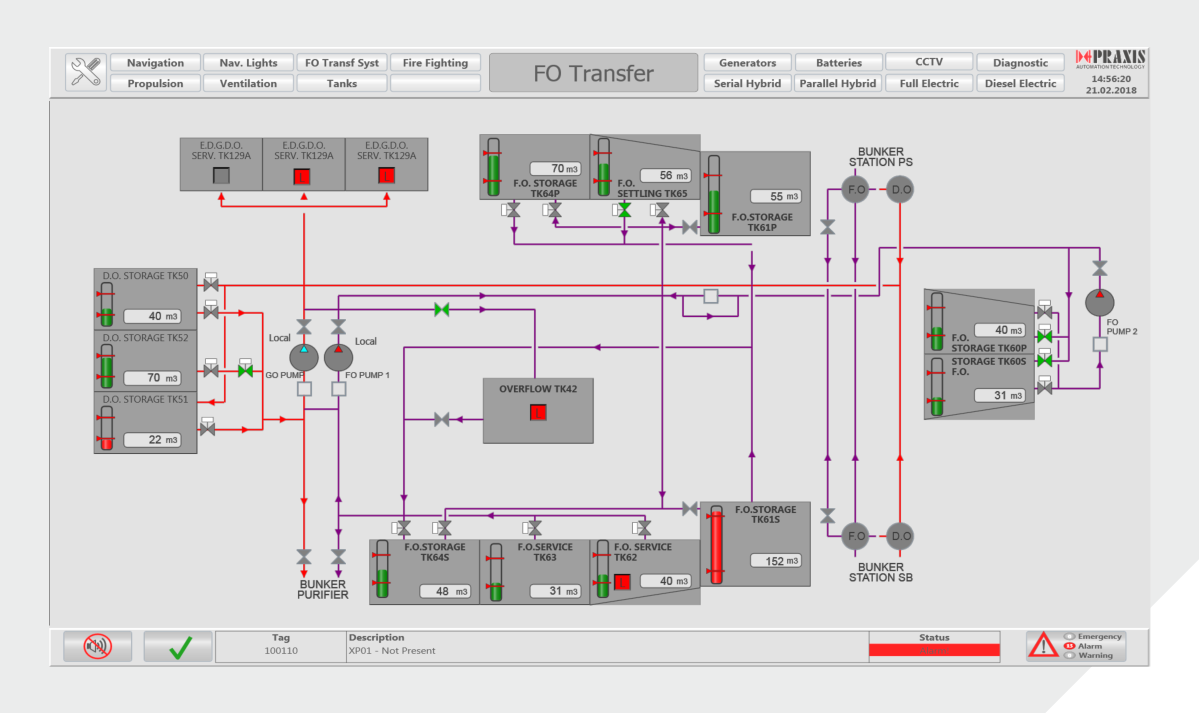 Direct swiping to Alarm Page and Main Overview Page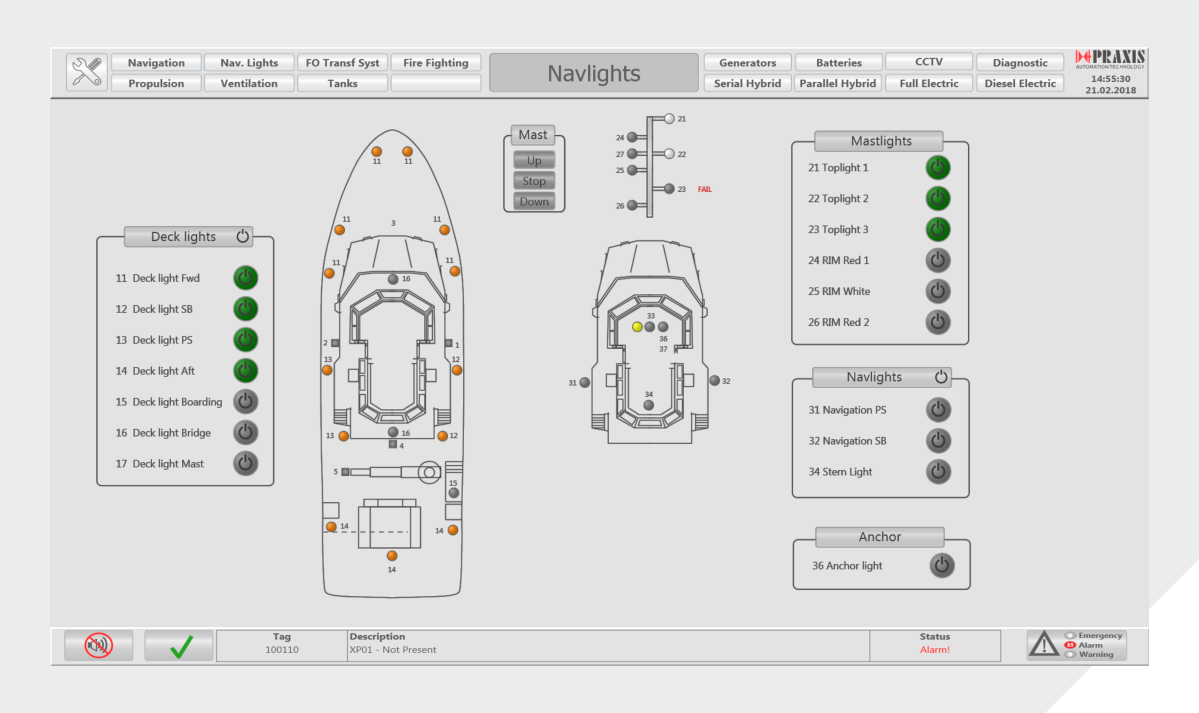 3D effects can be applied in the mimic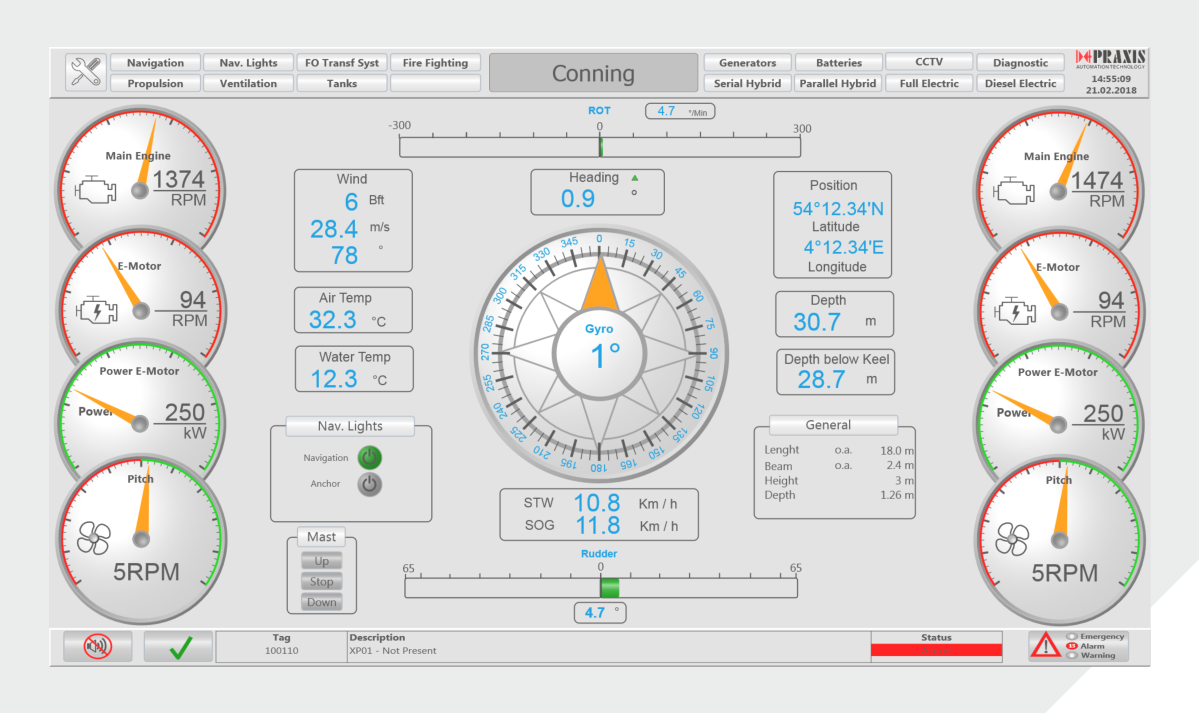 Intelligent zooming with additional info layers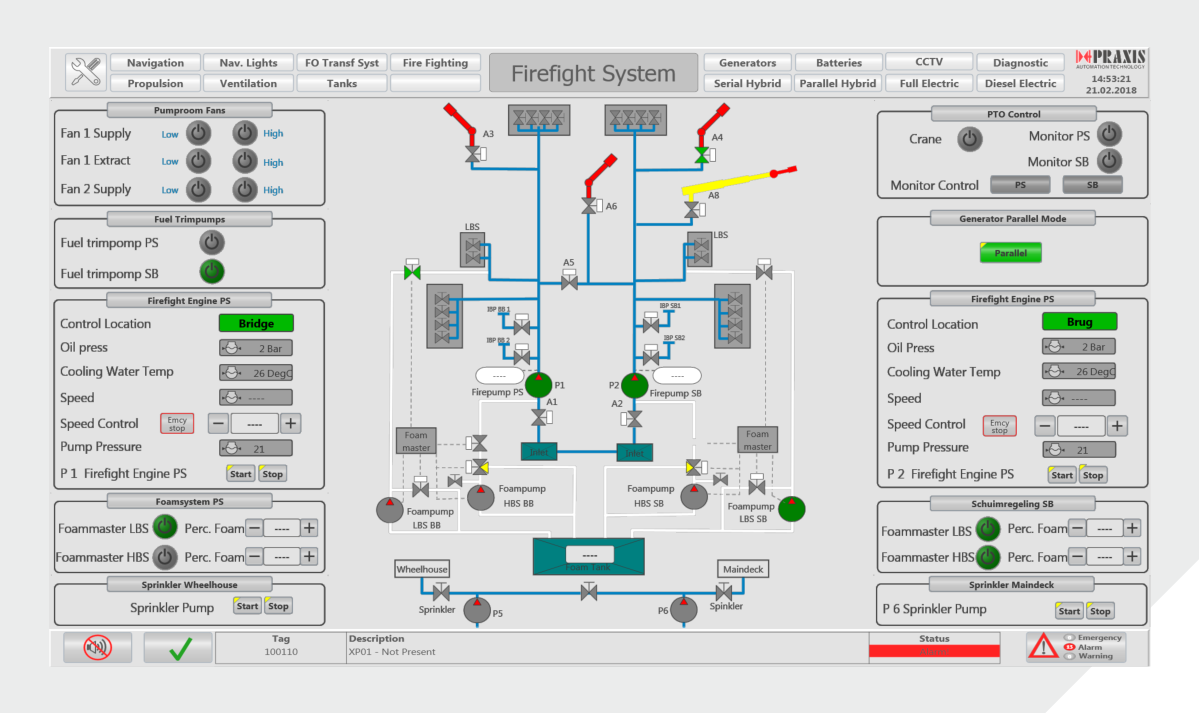 CCTV cameras embedded in the mimics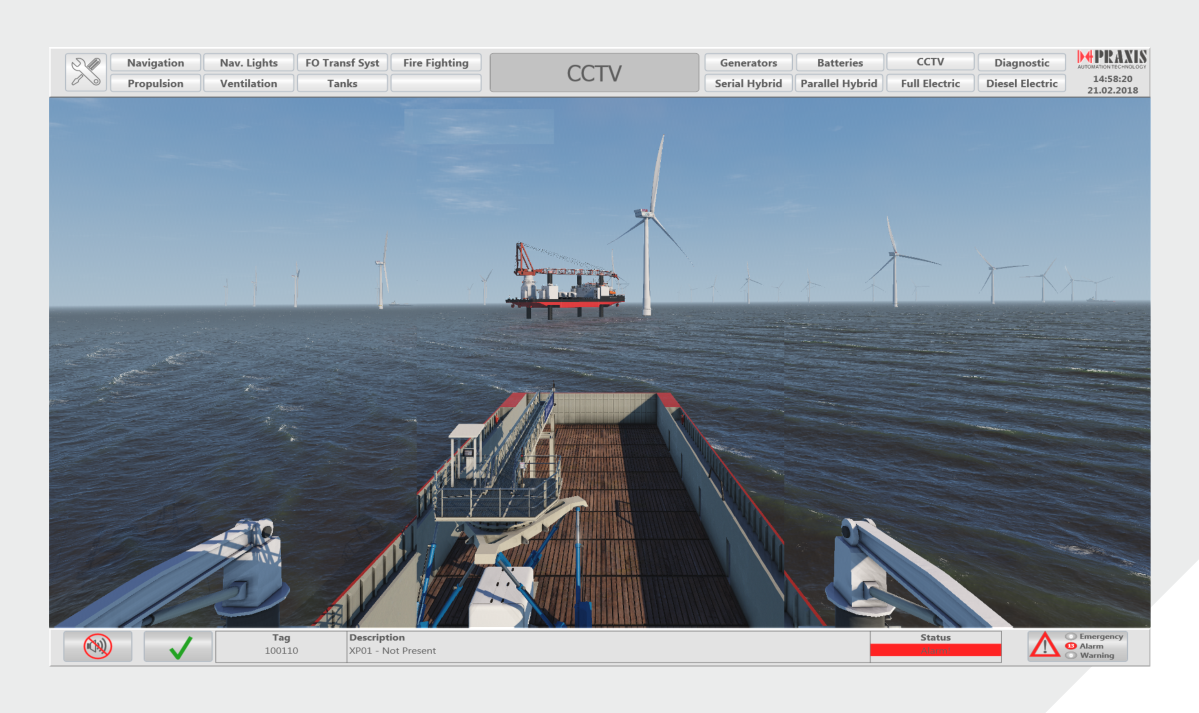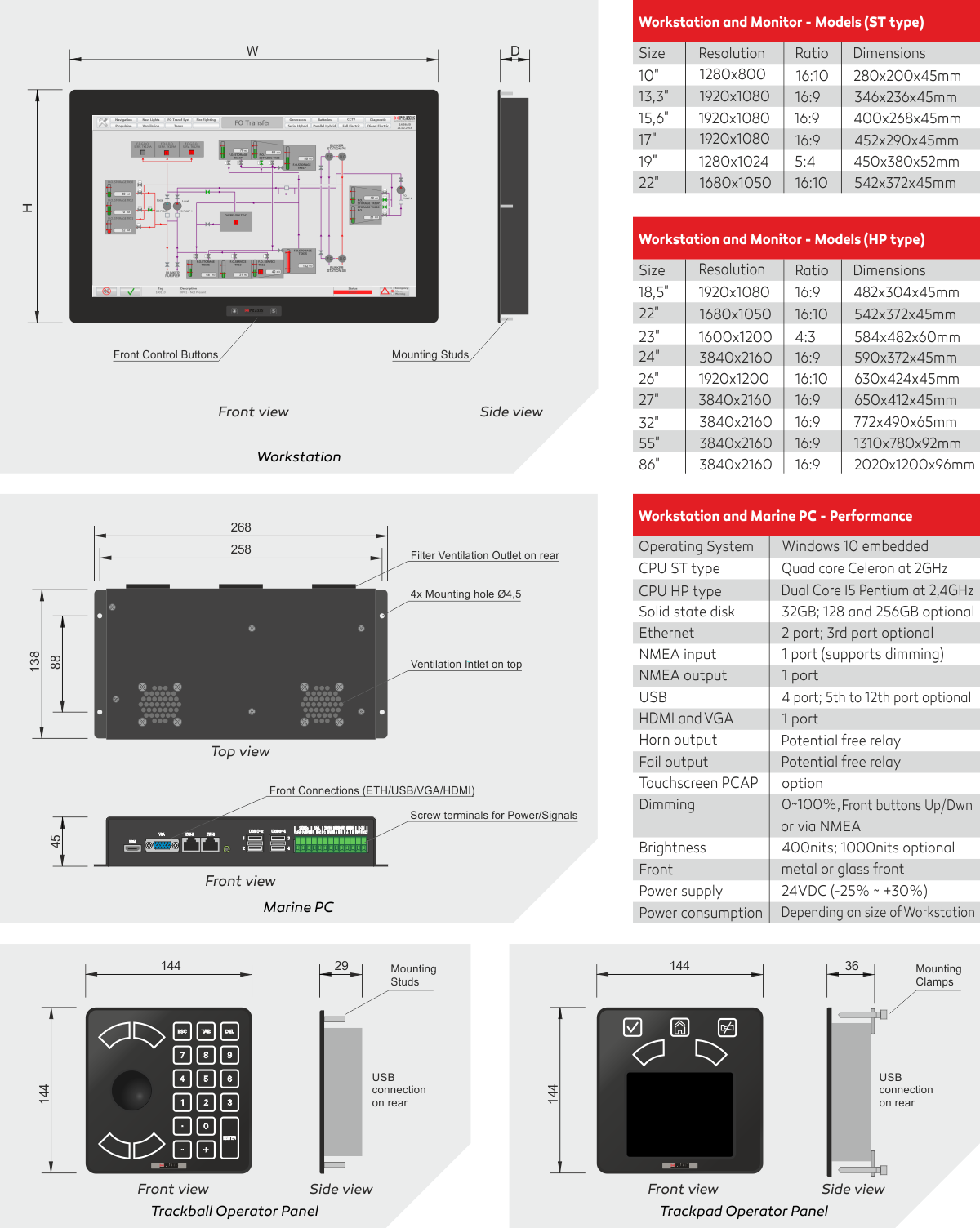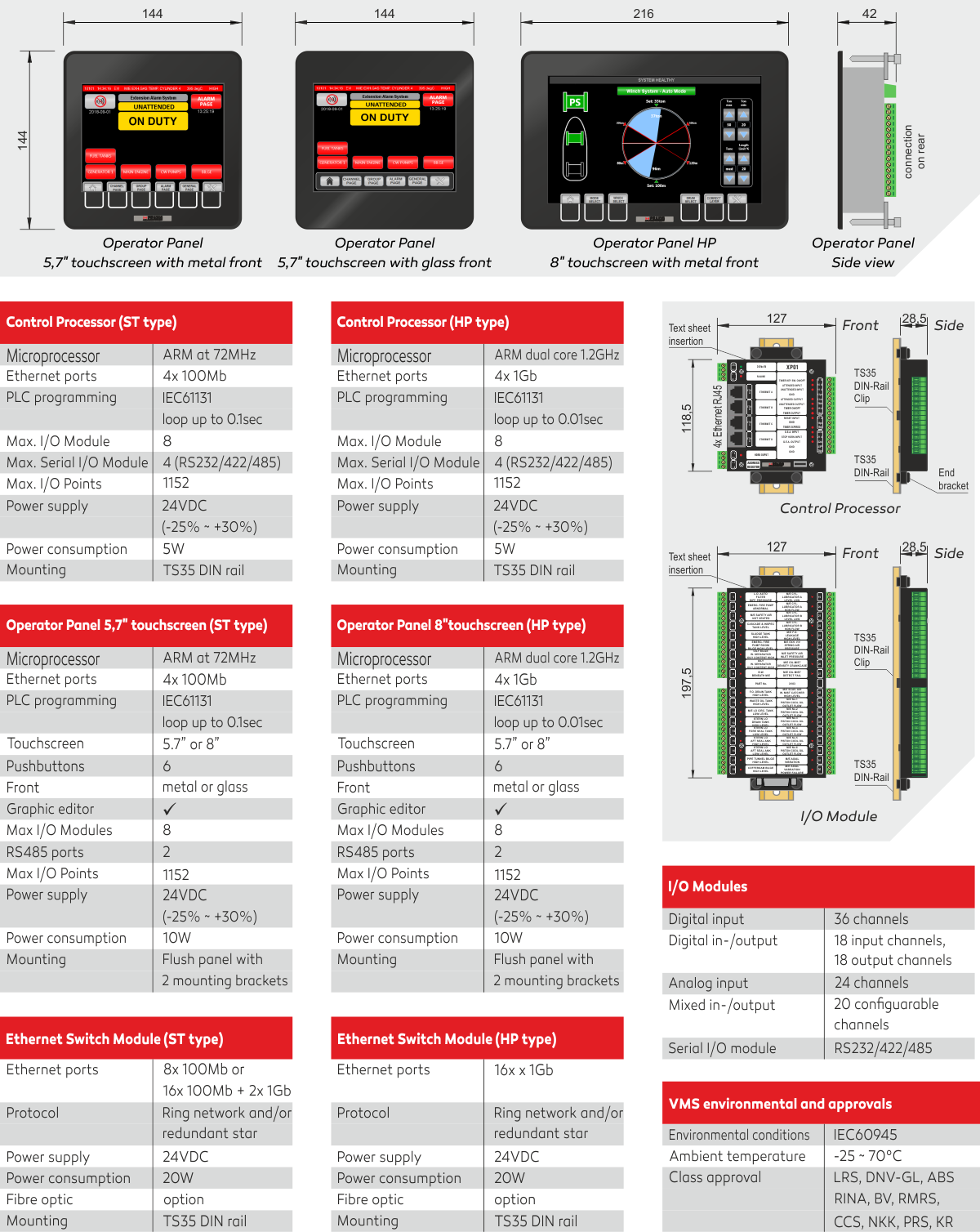 ---